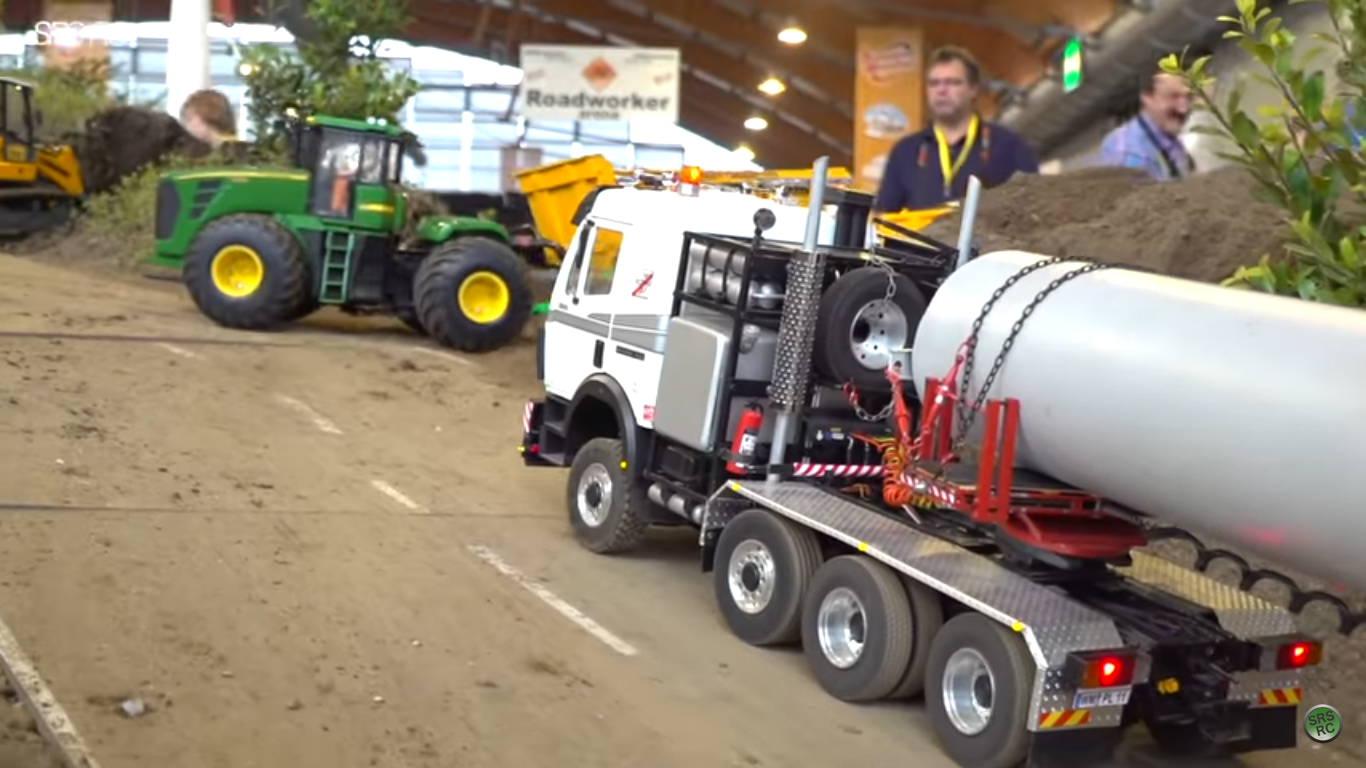 A recent show in Germany featured an impressive display of radio-controlled heavy equipment.
The attention to detail on the vehicles makes one think they are looking at the real machines on actual construction sites. Some of the trucks even have realistic diesel noises! It is fascinating to watch a miniature excavator dig up dirt, rotate, and drop into a dump truck that then drives off.
However, it is not just the vehicles that look amazing. There are roads, terrain, snow, dirt, windmills, wind turbines, and working stop lights that look and operate just as you would expect in the real world.
If you watch the crowd, you can tell that they are really into it. The young boys are close to the fence, and you just know that the kid inside each man really wants to be out there playing with all the toys!
Enjoy the 8:17 long video below! A full description of what is in the video is down below.
VIDEO DETAILS
0:00 – White transporter truck
It is hauling a long, white tube up a hill.
It could easily be a Hollywood movie scene!
There are an impressive number of wheels: 26!
Check out the details: wires, chains, exhaust stacks, textured metal plates, fire extinguisher, flashing lights.
0:17 – Green/red Mercedes Nachbaur truck
It is pulling a trailer.
Notice the police car flying by!
0:23 – Red/white/blue Vogel semi
It is hauling a shipping container.
0:43 – Orange/red Scania semi
It is pulling some kind of load.
1:07 – Snowcat groomer
The details are incredible:

Windshield wipers
Crane with winch
Tracks
Groomer on the back – very detailed

You can see it climb a 45-degree angle!
1:17 – Silver Mercedes SUV
Listen to the impressive diesel sound!
The bright headlights really stand out.
1:27 – White excavator
It really works!
Watch it dig dirt and drop it in a rock truck.
It's not clear if the actuators are hydraulic or electric, but the hydraulic lines are a nice touch.
2:02 – Orange snow blower
The street clearer really blows snow and clears the road!
Notice how powerful the blower is. The snow really flies.
2:38 – Blue Mercedes semi
This one is hauling a large, wooden house frame on a flatbed.
It's an impressive sight.
3:38 – Yellow rock truck
Watch it work together with the excavator to haul its load of dirt.
It sports some nice, big tires.
You can tell there is plenty of power in this R/C model.
3:57 – Red Scania semi
The truck is hauling a large see-through trailer.
It looks exactly like something you would pass on the highway.
4:40 – Green semi
It's pulling a flat bed with a large item AND a passenger rail car!
The rail car makes it quite a sight.
5:57 – Orange semi
Watch it hauling three other semis, just to show off!
So, there you have it. It is obvious that these model designers spent many, many hours of hard work, pouring over as many fine details as possible. Can you imagine how long it would take to design, cut, and paint every little piece? Well, the end result in this case is a collection of vehicles that look like they could be on the road, the construction site, or in a Hollywood movie action scene.
If you have a favorite truck from the video or you have any questions about specific models that are featured in it, please leave a comment down below. Also, let us know if you think you have the patience to build something like this, or if you would rather just be the operator! Happy R/C'ing everybody.