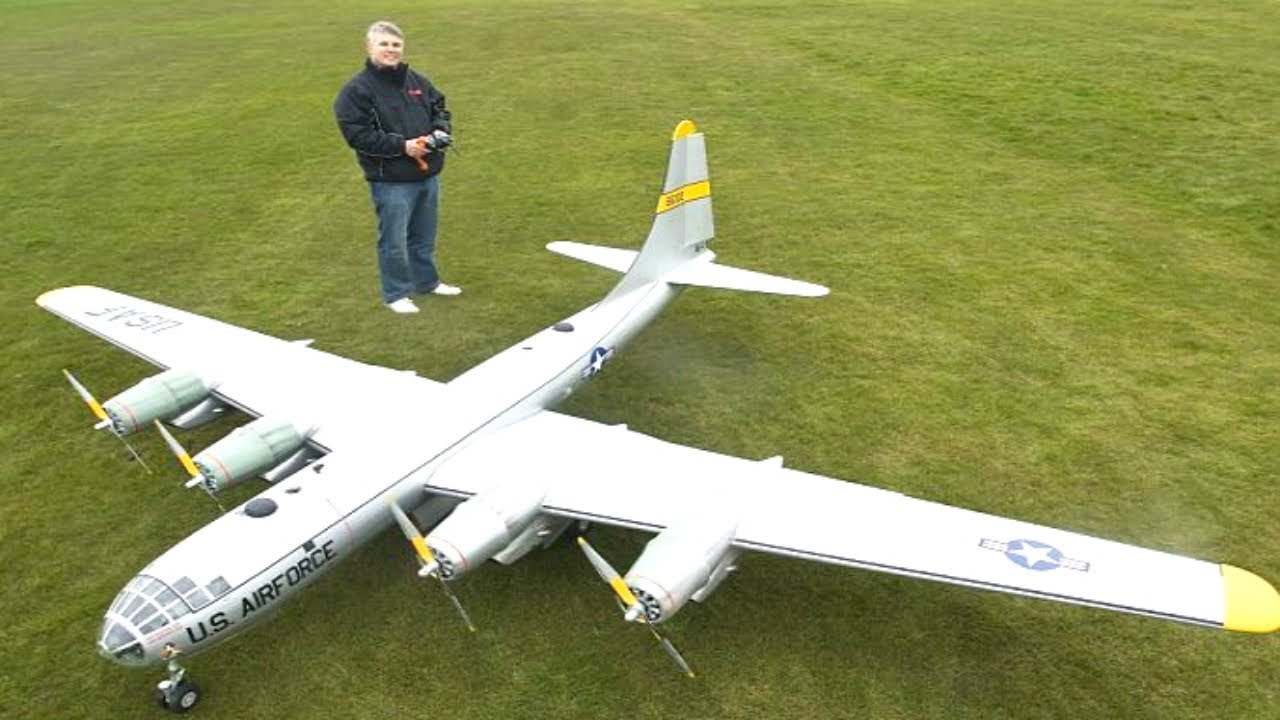 Here is a collection of some of the biggest radio control airplanes ever made!
A detailed list of each one is below the video, if you're curious what's in the 14+ minute video.
We have gone through the video to pick out the important details from each of the ten models, along with the timestamps, in case you want to jump ahead to a particular one. Perhaps the most unique model is the Space Shuttle attached to a multi-engine jet. There are also some biplanes and even a rare triplane. On the other hand, it's hard to beat the roar of high-powered turbines spinning up and accelerating the craft down the grass and concrete runways – just listen to the crowds cheer in approval!
0:07 – Yellow Biplane

Has a 7-cyclinder radial engine.
This particular engine creates a unique sound.
It's great to see a father and son working together on a shared hobby.

1:42 Singapore Airlines Jet

The four turbine engines create quite a stream!
From a distance it looks exactly like the real thing.
The takeoff looks and sounds realistic as well.
The audience cheers it on as it takes off.

3:32 Orange F-16 Fighter Jet

This is a 1/4 scale replica.
Has four turbine engines.
The bright orange paint job really adds to the excitement, even while it's sitting still.
The landing is a bit rough!
You know you have something special when your buddy has to stand by with a fire extinguisher!
Want more details? We wrote more about this one here.

5:12 Silver Biplane

As with similar planes, it sports a single 7-cylinder radial engine.
Who doesn't love watching a biplane take off and cruise around with ease?

6:33 Space Shuttle Piggy-backing on Jet

This combo is very cool and unique!
It reminds us of the Shuttle Carrier Aircraft, which were in service from 1977 to 2012.
The main plane has 6 electric motors, which don't look or sounds like the original, but, hey, they work great.
The main plane has retractable gear.
The shuttle, with its own retractable gear, actually releases and glides to a short and cute landing!

8:52 Blue Triplane

This triplane sounds like a lawn mower!
The size of the engine is not known but it appears to be quite large.
It has so much torque that it practically takes off while idling.
It can even do loops with ease!

10:12 White/Silver "Flugfelag Islands" Plane

Flugfelag Islands is the former name of the current Air Iceland Connect airline.
This one looks like it belonged to Howard Hughes or in an Indiana Jones movie.
It sports twin gas engines and a low wing.
Special feature for this airliner: it has working flaps!

11:35 Silver Long, Sleek Racer

One look at this one and you can tell it was built for speed.
It doesn't have much of a paint job; it's just sleek and beautiful.

12:23 Red/White/Blue F-16 Jet

This one looks like it's from a 1980's fighter jet movie.
The actual F-16 has been in service since 1978.
The look and sound of the takeoff is just impressive.
Who doesn't love a classic F-16 flying around, ready to protect and serve?

13:12 Green Boston / Havoc A-20G

The twin gas engines are O.S. Engines FR7-420 Sirius 7-cylinder radial models.
The glow engines have about 0.6 cubic inch of displacement and cost over $3,000 each.
The Boston variant of the Havoc is a bomber that was used by multiple countries from 1941 to 1949.
Do you have any favorites after watching the clip and reading some of the historical details? Feel free to leave a comment below.