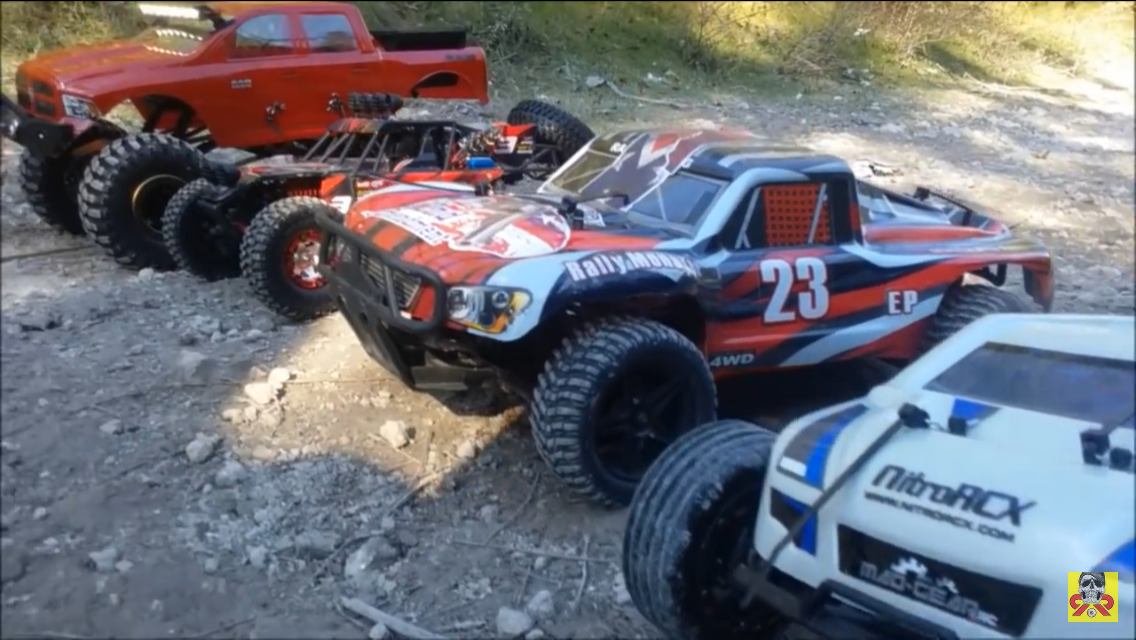 If you love driving R/C trucks but don't want to spend a lot of money on them right now, then you might like watching the video below. Obviously, you could spend over $1,000 buying the best radio control truck, with high quality parts (chassis, motor, electronics, suspension, etc), but what if you tried the other end of the scale?
A man who goes by "Mr. Random" on YouTube created this video in 2017, with the help of his children. Multiple camera angles and some modern music enhance the feel of the video, because, let's face it, these vehicles aren't top performers!
Mr. Random's goal was to setup an offroad course, consisting of grass, dried mud holes, and small hills, to see which, if any, of the four chosen trucks could complete the course. Perhaps you don't need to spend $200-500 for a decent offroad truck? Let's see what happens.
Here is a quick summary of the competition:
Desert Wolf TG2
Rally Monster
Desert Eagle
Red Cat Modified Dog Ram
The Redcat Ram starts us off and climbs the first hill with ease. The Desert Wolf TG2 then has a go; it's not so comfortable in this environment! Then, the Desert Eagle shows and up and it looks like it was born for this course. Finally, the all-American Rally Monster takes to the course and does its best but has some struggles.
Truck Specifications:
In case you want to learn more about these vehicles, the major specs are below, along with links to view or purchase them. It looks like the 540 motor is quiet popular among this class of truck.
Redcat Racing Everest-10:
$175 (in 2020)
Redcat Racing Everest-10 Electric Rock Crawler with Waterproof Electronics, 2.4Ghz Radio Control (1/10 Scale)
Says "Dodge Ram" on the side
Has a nice bar light
Has a cheap-looking body
The suspension looks very flexible
54T RC540 brushed motor
40A ESC
High torque steering servo
7.2V NiMH battery
Desert Wolf TG2:
$99 (in 2020)
Mad Gear Racing Desert Wolf Baja 1/10 2WD RTR Buggy
Not the prettiest truck around!
Got stuck on basically flat dirt!
Has no ground clearance – made for the street, practically
Rear wheel drive
7.2V 1800mAh NI-MH battery
RC 540 brushed motor
Long travel oil filled shocks
Desert Eagle:
$90 (in 2020)
GoolRC FY-03 2.4G 4WD 1:12 Desert Off-road Truck High Speed Ready To Race Remote Control Car
Body looks thin but cool
Has a spare tire on the back
Seems to hanlde the best of all the trucks here
Four wheel drive
380 class big power motor
220A class electronic stepless speed controller
7.4V 1500mAh Li-Po battery
Rally Monster:
$130 (in 2020)
Exceed RC 1/10 2.4Ghz Electric Rally Monster RTR Off Road Rally Truck
Says #23 on the side
Struggles up the first hill
High centers quite easily
Four wheel drive
Oil filled shocks & lightweight suspension
540 motor with heat sink
7.2V 1800mAh Ni-Mh battery
Notable Comments:
It looks like the top pick for the win was the Redcat.
Conclusion:
All four of these competitors did finish the course, but most had major troubles. The best performance was probably by the Desert Eagle. Although these trucks are called "cheap", they are not the cheapest you can find. You can spend as low as $5 to get a tiny toy at a dollar store, so it might be more appropriate to call these "low-to-mid priced" trucks. Oh well, they look like fun to drive, despite their underwhelming handling. At least they don't totally break the bank!
Affiliate Links Note:
Some of the links above are affiliate links, which means we make a tiny percentage of any sales we refer. That helps us continue making articles like this!