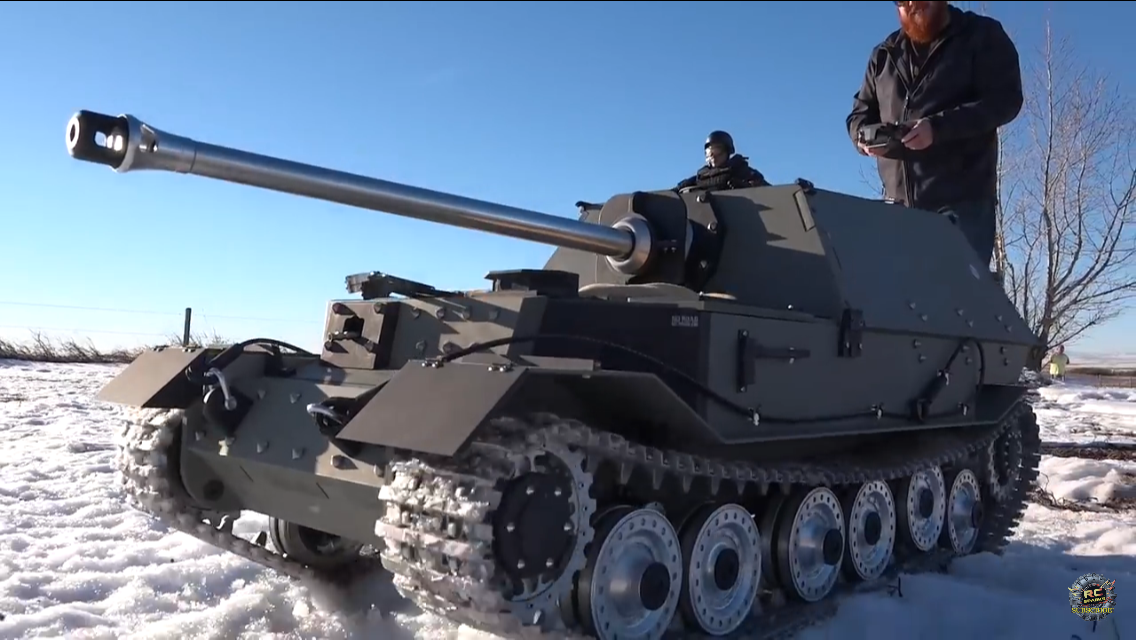 What happens when a group of men get bored and have some extra cash in the winter? In this case, the boys at RCSparks Studio on YouTube decided to buy a radio controlled tank kit and put it together.
After spending who knows how many weeks putting it together, they produced a video to show the world their new baby. Over five million people have already watched them try out their newly-assembled military model with a small child, snow, and fire. Just an ordinary day, right?
The video begins with the tank up on a table, and they have to figure out how to get it down. Will the temporary wooden ramp they built hold up to the weight? Watch the video below to find out!
Construction & Details:
The official model name is ARMORTEK ELEFANT.
It is modeled after the WW2 Ferdinand Elefant Tank Destroyer!
Meticulous measurements were taken in a museum, and the results are quite impressive.
It is a 1/6 scale kit – you have to put it together yourself.
The kit has over 1,300 parts and 1,200 fasteners. Have fun!
You can hear the clicking of the metal tracks and wheels, which are made of aluminum and steel.
You can tell all the parts are high quality and great craftsmanship, made on CNC machines.
The turret can move up and down, if you have the Motion Pack.
Heavy Metal:
We are talking 240 lbs of metal, with all the accessories!
You can see that one guy in the video struggled to barely lift the front end.
Problem: How would you load it in your car or put it up on a table? Hmm, maybe custom ramps are the way to go.
Feel the Power:
Two 24V electric motors push this beast of a model around.
The motors are powered by two car batteries in series. Those add significant weight to the tank, as you can imagine.
One of the men's young son rode on the back, and it didn't phase the vehicle at all!
Option Packs:
Motion Pack: This includes all motors and electronics to make the tracks and accessories move.
Sound Pack: This includes electronics and speakers to produce realistic sounds recorded from real life.
Recoil Pack: This includes motor, LEDs, and electronics to make the main gun recoil and show a flash during firing.
Smoke Pack: This includes a smoke box, heating unit, and fan to blow realistic smoke out while the vehicle is driving.
Sound System:
This option pack sounds quite good, and it includes the following features:

Driving sounds
Machine gun sounds
False start sound
German voices
"Kaboom" (also moves the big turret)
Driving in the Snow:
There proved to be no problem with traction in 2 inches of snow on level ground.
Let's face it – this mainly just provided a cool background to film in.
Playing With Fire:
A dramatic scene of fire on top of the snow, with black smoke and dramatic music.
Looks like a scene from a war movie!
It would be neat to see the tank either shoot fire (not realistic), or shoot real shells that cause explosions, but maybe that's asking too much!
Price & Where to Buy:
Ready to buy one?
The total cost is about $6,500 in US currency.
Armortek is a scale model company in the United Kingdom.
Conclusion:
Maybe it's true that men never really grow up. They are just bigger boys with their bigger toys! Although this R/C tank cost thousands of dollars, this group of guys is just having some good, old-fashioned fun, right? If you had that kind of extra cash, would you order one of these kits for yourself?